David Wright looks at benign neglect and allowing autonomy, choice and independence.
""Wouldn't it be fantastic if individuals' later memories of the best times in their childhood featured us, their adult Early Years teachers, because we enabled them to feel emotionally secure, we trusted them with autonomy, choice and independence, we gave them opportunities and encouraged them to challenge themselves and we supported them in their planning and reflection.""
David Wright, Paint Pots, Nursery Owner
I find it interesting to ask people about their best memories of childhood. Often, their answer refers to an event, time or activity where children played away from adult supervision. I wonder if that's how it was for you? I can certainly remember exploring the woods and the beach near our home with a gang of neighbouring children, when was I quite young, which was a long time ago.
We know that children's ability to roam has been severely curtailed in the intervening years, for many reasons. For some children, maybe their unsupervised experiences occurred in the back yard, in another room, or under the table with a blanket providing screening. This prompts the question, what is it about unsupervised activities that we value as children? Why might we want to play away from adults, what are the benefits and what role might adults serve in supporting this need?
An observation trip to Capri
In celebration of a special anniversary many years ago, one summer my wife and I stayed on the beautiful (and expensive!) island of Capri for a week. One afternoon we explored the coastline from our remote hotel by foot, following the path along rocky outcrops overlooking the turquoise-coloured Mediterranean before clambering up very steep steps across the rock-face from the sea up to the town square of Ana Capri. We arrived at our destination just as the primary school emptied into the heat of the Italian afternoon. There was suddenly a lively, youthful exodus from the school gates, past the play park and on into the town square. We followed, passing the play park ourselves, noting the curiously chained-up gates shielding rusting and overgrown play equipment within.
We found an outside table at a café from which we observed the town's children and their carers whilst we enjoyed our coffee. For us two Early Years practitioners, the scene in front of us revealed a very interesting dynamic. The adults formed a protective ring (proximity maintenance in attachment terms) surrounding the main square. They were engaged in passionate conversation with one another, gesticulating with their hands as only Italians do and ostensibly ignoring the children who occupied the centre of the square. We observed that this mixed-age group of boys and girls had no resources, equipment, planning, adult supervision or instruction and yet we witnessed deep engagement, social interaction, negotiation, clear rules, language, maths, physical activity, imagination, creativity and an overwhelming sense of well-being and fun. Occasionally a child would briefly interrupt an adult carer with a request but for the main part they were very happy to play on their own whilst their parents practised what I term benign neglect.
I use this term tongue in cheek. As teachers we always have a duty of care as our primary focus – just as the Italian parents and grandparents ensured they were available for their children if needed and observing them but they did so in a trusting and respectful manner that provided a safety net comprising the whole community to ensure protection. No child was ever isolated or overlooked but they were free to be themselves, to pursue their own agenda.
Interacting of interfering?
Arguably, benign neglect is a central theme of Julie Fisher's book 'Interacting or Interfering?' in which she challenges the notion that children require constant adult supervision to manage their play and development. Julie contends that much of what adults deem necessary guidance, instruction and direction is perceived by children as interference.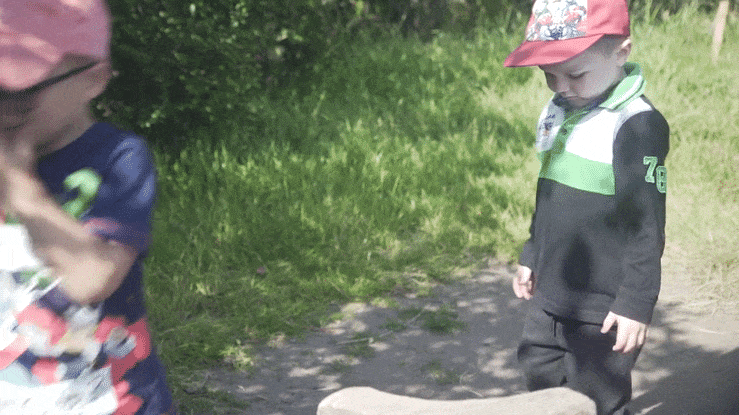 Alison Gopnik employs the wonderful metaphors of 'The Gardener and the Carpenter' in her book of the same title. The carpenter fashions and shapes raw material with a fixed view of the intended end product, in contrast to the gardener who plants seeds, tends and nurtures them as they grow, with no preconceptions and delights in the beauty of the subsequent blooming flowers and fruit. Alison compares these approaches to parenting, those who micro-manage and control in an attempt to fashion an end product from their child versus the carers who practice husbandry – nurture and cultivation and a sense of knowing when to step back and let nature take its course. Extending this analogy, we can relate to the appeal of the wild or naturalistic garden, deliberately left unmanaged. It is precisely the absence of planning and control that is apparent and attractive to the eye in the resulting display.
The padlocked gates of the Ana Capri play area with its overgrown slide and climbing frame are a graphic reminder of well-meaning adult provision that fails to meet the needs of children. It is easy to persuade ourselves that what our children really need is us, to control and organise every aspect of their day and their learning. Who knows what might happen if we leave them to their own devices? They might be hurt, upset, bored or mischievous. We worry that without adults present to oversee their activities, children will fail to develop in the expected pathway, to the standard required by our educational systems.
What is the early year practitioners role?
In Early Years settings, this can become our defining role – the teacher as resource, manager, organiser, cultural capitalist, peacekeeper and enforcer. We can effect this by several means, through our planning and timetables where sometimes the routines take precedence. We can deploy a power dynamic where 'big' has more authority and decides what we are going to do when and the sometimes arbitrary rules about what we use our legs, hands, teeth, ears and voices etc. for – "Indoor voices, Preschool!" (What if you are a habitual shouter indoors?) along with exhortations to use 'kind hands', 'listening ears', 'indoor legs' or "We don't climb up the slide!" I do and I'm over 60. (I'm actually quite impressed that I still can!) and one of my favourites – the reminder that "teeth are not for biting!" But they are, aren't they? How very confusing for a 2 year old who is struggling to express her feelings and has just tried to take a chunk out of her friend's arm in frustration.
Siren films "Active Learning – Introduction" video clip features several children mastering various tasks including a girl with a real hammer, a block of wood and a nail which she proceeds to drive into the wood.
There are no adults in shot physically guiding her hands, cautioning her to take care or controlling her actions. Despite a slight injury to her hand, she perseveres and succeeds on her own. This might be her first solo attempt at hammering. Imagine the sense of achievement. How different this might have felt had someone not trusted her to carry it out on her own. By standing back and allowing her to do this on her own, the adult has enabled her to practice and develop this skill (gross and fine motor, hand-eye coordination) and importantly, her sense of self-worth. There is no need for adult intervention.
Again in "Active Learning – Keeping on Trying" we are reminded of the importance of adult scaffolding being withdrawn as soon as possible.
We see a boy playing on his own, talking to himself as he persists in balancing blocks to create a tall structure. He repeatedly tries, observes the blocks fall off, picks them up again, reflects and adapts his technique until he succeeds in building a structure he is pleased with and invites the adult to see what he has done and share his achievement. What would have happened to his concentration had he been called to lunch right at that moment? Sometimes it is helpful to reflect on whose needs take priority.
"How do children learn from each other?" contains several wonderful examples of powerful interactions between children with no adult intervention.
We witness children using their agency, choice and emergent social skills to negotiate shared physical play with others. We see them developing their ability to cooperate, to analyse and verbalise their own learning (metacognition) and how to relate to friends and the effect that their actions and words can have on others' feelings.
I think it is important to stress what I am not saying here:
Children do not need adults


We know the importance of attachment to build emotional security from within which children can exercise autonomy and to develop their social and independence skills.

Adults should always leave children to their own play

Teaching is relational. The adult's role is to scaffold children's learning and to help sustain their thinking. Sometimes this might look like child-initiated and adult-free activities. It can also be adult-supported, adult-led and adult-initiated. It's a question of balance and the skill of the Early Years educator is to know when each is appropriate.

The environment is not important

The Early Years Foundation Stage refers to an enabling environment. The town square enables children to be free to play with one another in a way that the play-park clearly does not. Perhaps there is an opportunity for us to review the environments we plan for our children? Do we ask them what they need or want?

There is no need for resources

In the Italian town square, we witnessed children covering most of the seven areas of development with no resources – except each other. But of course appropriate resources are hugely effective in supporting development and learning. The more open-ended the resource, the more opportunity there is for creativity and imagination.
What did David Whitebread think?
With regard to this area, in my opinion, one of the most insightful videos in the Siren video clips collection, is a talk from the late David Whitebread – "How can you support the development of self-regulation?" In it, David summarises 4 key aspects of research findings into what makes teaching effective.
4 key aspects of research findings into what makes teaching effective:
Provision of an environment of emotional warmth (attachment)
Based on relationships of trust or mutual regard
Opportunities for appropriate cognitive challenge
Children who are confident to challenge themselves
Giving a sense of autonomy and feelings of control
Support to reflect and plan - metacognition
I would highly recommend watching this talk. It speaks to the key aspects of Early Years practice that support children in their overall development. We know that self-regulation is fundamental to children's development. David confirms this from the research.
Wouldn't it be fantastic if individuals' later memories of the best times in their childhood featured us, their adult Early Years teachers, because we enabled them to feel emotionally secure, we trusted them with autonomy, choice and independence, we gave them opportunities and encouraged them to challenge themselves and we supported them in their planning and reflection? I find it really helpful to reflect on how far I do each of these.
Maybe sometimes we can lock away the resources we have provided, trust our children and allow them not to need us at all. To do so, just might be benign neglect.
Watch the full videos here
To watch the full video clips selected by David you can sign up for a free trial or a paid subscription to gain access to the full Early Years Clip Library.
David Wright's collection →
David Wright is a former owner and now an ambassador for Paint Pots Nurseries in Southampton. He has 18 years experience as an Early Years Teacher. He is the national representative for England to the World Forum on Early Childhood Education (ECE) and the global lead for their Men in ECE working group. David is an author, broadcaster, commentator, presenter and international conference speaker on Early Years. He is an advisor to the Early Years sector council of the National Association of Head Teachers and a member of the leadership team of the South East Region of the Ofsted Big Conversation. He is the founder of Families First Southampton, a charity supporting families in need. He is the chair of trustees of New Life Home Trust UK CIO, a charity that supports the rescue of abandoned babies in Kenya. In May 2019 he took 3 of the Paint Pots team to Kenya to volunteer in a baby rescue and special needs centre.
David is a passionate advocate for the rights of all children. He can be found on Twitter as @Mr_Paintpots